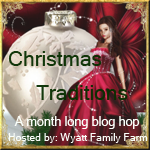 With my last post I thought that this may be a fun hop for the month! I am going to keep it simple since December is such a busy month for most of us! The rules are easy!
1. Follow your host
Wyatt Family Farm
(I promise to follow back)
2. Grab the button and post it in your blog post telling us all about your Christmas Traditions! (
if button is not posted in post link will be removed!)
3. Come back and add your link to the linky make sure to leave a comment after linking.
4. Visit as many blogs as you can. And remember to leave some love. Bloggers feed on comments!
Please do not add your link if you are not posting a post about your family traditions, and since this is a month long hop please add the link directly to your post to the linky! Entries not following these rules will be deleted.
Hop around and read all about other families traditions this holiday season. If you don't celebrate Christmas you are still welcome to participate, just tell us about your traditions this Holiday season!
Our Traditions:
Baking and candy making
, is our biggest tradition. the kids and I love to fill the house with the wonderful smell of cinnamon and gingerbread during the holidays. Granted we bake all year round, but no the warm yummy treats that we make at Christmas. We make candies, which is so much fun and the kids get a kick out of painting with colored chocolates each year.
Sing
, we sing carols all month long, get in the car and turn it up!
We are still adding to these traditions every year, so we are excited to see what traditions other families have! Happy Hopping and Happy Holidays!