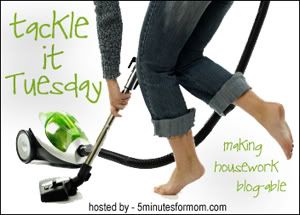 Today My Tackle it Tuesday, is all about me. I have been camping for so long that I am in desperate need of repair. Lol My hair is so long that it knots just thinking about being taken out of the pony tail holder. Its just a mess. To brush it takes a tleast an hour and to blow dry it, og God don't even ask. It's time and I think I might go SHORT! We will see how I feel when I get to the shop in about an hour.
Before
God I look horrible, oh well lol. Stay tuned for the after, this after noon.
... 3 hours later.... Tackle DONE!
Ok so I went in to Stephanie's, it is owned by one of the moms of 2 girls on our cheer squad. I told her I wanted it short, sassy, and flattering... Do your thing!!
She proceeded to chop chop chop and more chop .... I could feel my head getting lighter and lighter, it was feeling wonderful and I could already feel the bounce in my hair... Some more chop, chop, chop..
Pile of Hair When She Was Done
I looked up and saw the most amazing hair cut I have ever had... It took so long because we yacked and yacked for a few hours, lol. I LOVE IT BTW!
And now before and further ado!!
After
God the light in the bathroom of my hotel (story on why I am in a hotel again to come soon) is not flattering at all. I also Got my eyebrows waxed so dismiss the red on my face.
You can find the details for participating at
5 Minutes for Mom
, her post for today is
The Great Clothing Donation Part I