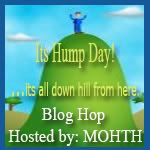 Hump day! I am so glad that this week is half over. I feel like I have been running 90 to nothing all week. I am behind in everything and can not seem to catch up no matter what I do. To make matters worse I feel a cold coming on which is never that simple with me, it always seems to end up as phenomia and me on bed rest for a week, with a cracked rib from coughing. I know its my own fault from smoking but I am just unable to quit right now. Lord knows I have tried, and tried everything. I even took that Chantix, but that made me more of an unstable nut than I already am so that had to go. lol
Anyway, I want to thank Heather @
Mommy Only has Two Hands
for hosting this adorable and fun hop. If you want to join up, heres how!

I have a guest host: Real Mom Reviews
Every week there will be a new guest host!

1. Follow your two hostess with what they link up on the linky form, which could be twitter, blog or a facebook page.
2. retweet/facebook this hop. You can do this with my tweet button in the top left corner of this post or on the bar at the bottom of this page.

3. Follow who ever follows you! Of course you might have to initiate a follow by following people on the linky, but still its really easy and simple!
So head on over and link up!
AquaEssentials Review & Giveaway
{Low Entries} (74.90 Retail Value)