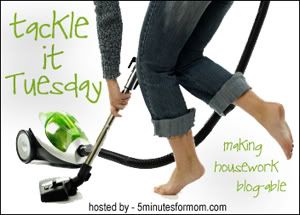 Ok so I have been doing the Flylady, and so far love it. This weeks zone is the Master bedroom, which honestly I have been dreading!!! Its a mess. I am going to be an open mommy blogger here and give you a peek into my master bedroom. Hubby is supposed to be making me a new bed that is going to be awesome, im just waiting for him to get around to it. So excuse the mattress on the floor!
Dosn't look to bad but it def. needs attention
OMG its just a cluster ...
Make that damn bed girl!
We do not need dressers because of the closet set up that we have but I am hoping that hubby will get me these nightstands to go with my new bed he will eventually build!
Added: 1:00pm central
My closet!
So here I go... Wish me luck I will be back to update with pictures of the progress when I am done!
DONE!!
After Shots!
Woot! There is a floor!
Lazy puppy watched me from the bed the whole time
Much better!
Video of cleaned closet!